How to Find Sources | Scholarly Articles, Books, Etc.
It's important to know how to find relevant sources when writing a research paper, literature review, or systematic review.
The types of sources you need will depend on the stage you are at in the research process, but all sources that you use should be credible, up to date, and relevant to your research topic.
There are three main places to look for sources to use in your research:
Research databases
Your institution's library
Other online resources
Research databases
You can search for scholarly sources online using databases and search engines like Google Scholar. These provide a range of search functions that can help you to find the most relevant sources.
If you are searching for a specific article or book, include the title or the author's name. Alternatively, if you're just looking for sources related to your research problem, you can search using keywords. In this case, it's important to have a clear understanding of the scope of your project and of the most relevant keywords.
Databases can be general (interdisciplinary) or subject-specific.
You can use subject-specific databases to ensure that the results are relevant to your field.
When using a general database or search engine, you can still filter results by selecting specific subjects or disciplines.
Example: JSTOR discipline search filter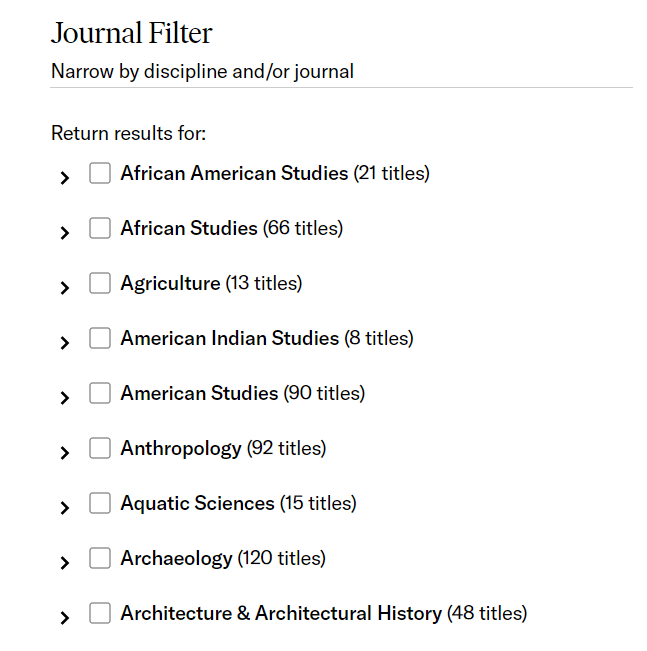 Check the table below to find a database that's relevant to your research.
Research databases by academic discipline

| | |
| --- | --- |
| Interdisciplinary | |
| Science & mathematics | |
| Social sciences & humanities | |
Google Scholar
To get started, you might also try Google Scholar, an academic search engine that can help you find relevant books and articles. Its "Cited by" function lets you see the number of times a source has been cited. This can tell you something about a source's credibility and importance to the field.
Example: Google Scholar "Cited by" function


Boolean operators
Boolean operators can also help to narrow or expand your search.
Boolean operators are words and symbols like AND, OR, and NOT that you can use to include or exclude keywords to refine your results. For example, a search for "Nietzsche NOT nihilism" will provide results that include the word "Nietzsche" but exclude results that contain the word "nihilism."
Many databases and search engines have an advanced search function that allows you to refine results in a similar way without typing the Boolean operators manually.
Example: Project Muse advanced search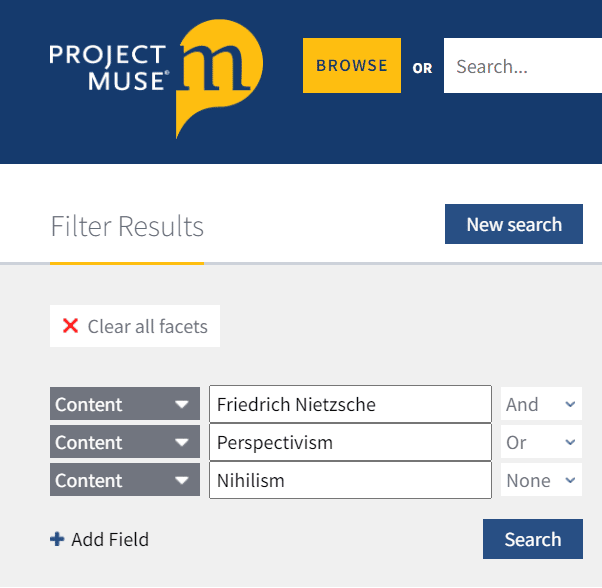 Library resources
You can find helpful print sources in your institution's library. These include:
Make sure that the sources you consult are appropriate to your research.
You can find these sources using your institution's library database. This will allow you to explore the library's catalog and to search relevant keywords. You can refine your results using Boolean operators.
Once you have found a relevant print source in the library:
Consider what books are beside it. This can be a great way to find related sources, especially when you've found a secondary or tertiary source instead of a primary source.
Consult the index and bibliography to find the bibliographic information of other relevant sources.
Other online sources
You can consult popular online sources to learn more about your topic. These include:
Crowdsourced encyclopedias like Wikipedia
Blogs
You can find these sources using search engines. To refine your search, use Boolean operators in combination with relevant keywords.
However, exercise caution when using online sources. Consider what kinds of sources are appropriate for your research and make sure the sites are credible.
Look for sites with trusted domain extensions:
URLs that end with .edu are educational resources.
URLs that end with .gov are government-related resources.
DOIs often indicate that an article is published in a peer-reviewed, scientific article.
Other sites can still be used, but you should evaluate them carefully and consider alternatives.
Other interesting articles
If you want to know more about ChatGPT, AI tools, citation, and plagiarism, make sure to check out some of our other articles with explanations and examples.
Frequently asked questions about finding sources
Cite this Scribbr article
If you want to cite this source, you can copy and paste the citation or click the "Cite this Scribbr article" button to automatically add the citation to our free Citation Generator.
You have already voted. Thanks :-)
Your vote is saved :-)
Processing your vote...